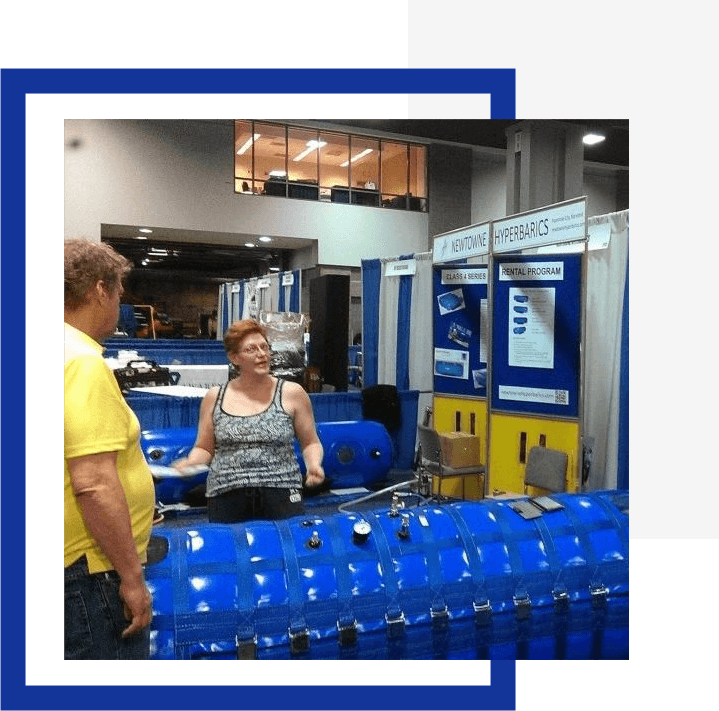 The Portable Class 4
Mild Hyperbaric Chambers for Home Use
Our Exclusive Line of Top-Quality Mild Hyperbaric Chambers.
Newtowne Hyperbarics offers state-of-the-art mild hyperbaric chambers for both clinical and home use. Each hyperbaric chamber is made from hypoallergenic, medical-grade material, including 46 oz heavy-duty, double laminated ballistic grade nylon. With large view ports and easily readable pressure gauges, our chambers are among today's most user-friendly and versatile products. The Class 4 Mild Hyperbaric Chambers all come with a standard two-year warranty, backing up our commitment to quality. Each chamber also has exclusive port pressure covers to reinforce the strength and safety of the devices, as well as to prevent "bug-eye" effects when pressurized.
Rental Price* (Deposit equal to first month's rent)

C4-27
*Internal gauge not included ($150 upgrade)

27"

92

1

Thin mat
4" mat upgrade $275

$4,495- incl. shipping

$900

C4-34 (pictured above)

34"

95"

2

4" curve mat w/ cover

$7,495 - incl. shipping

$1195

C4-34 Military

34"

95"

2

4" curve mat w/ cover

$6,295 - incl. shipping

$1195

C4-40

40"

108"

2

4" curve mat w/ cover

$10,995 + $400 shipping

$1595

*Oxygen Concentrators are available through Newtowne Hyperbarics are$1575.00. SHIPPING INCLUDED FOR 27" and 34" HORIZONTAL CHAMBER PURCHASE ONLY SHIPPING NOT INCLUDED WITH RENTAL

Terms: ¨ Deposit is equal to the first month's rent. ¨ 100% of the deposit + first month rental fees apply toward the purchase price ¨ 75% of subsequent rental fees apply toward the purchase price ¨ SHIPPING NOT INCLUDED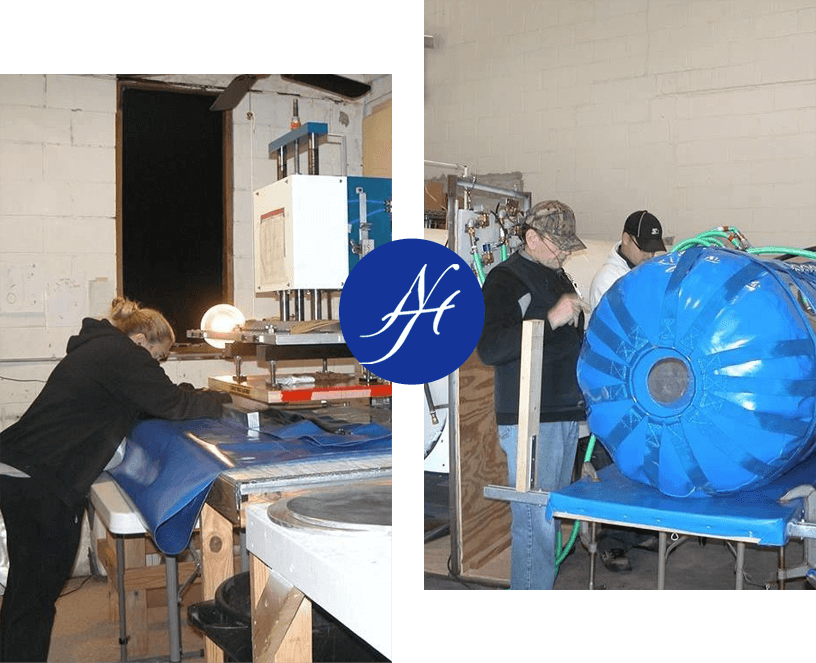 We also carry a variety of hyperbaric chamber accessories to enhance the functionality and performance of our machines. Many of these accessories are available to purchase alongside the products; however, they are also available to purchase separately.
Other devices we carry include:
DeVilbiss 10L oxygen concentrator: currently available through Newtowne Hyperbarics. (A prescription is required for this product.)
Replacement Oxygen Masks or Cannulas- $5 + shipping.
Oxygen Hoses - $5 + shipping.
Humidifier Bottle - not recommended for use with the HBOT system.
Oxygen Kit (Includes Valve for the chamber, oxygen hose, 1 adult mask, 1 adult cannula) - $250: For additional / replacement kits only. The oxygen kit is included in every chamber.
CONTACT LIESL NICHOLS AT (717) 599-4260
The Resources You Need to Get the Most Out of Your Chamber
All the Hyperbaric Chambers available from Newtowne Hyperbarics have accompanying brochures and manuals to help you better understand the product. The manuals are available by request, and the brochure with more information can be found here.
Our Special Offers Make Our Chambers Even More Affordable
We offer selected portable hyperbaric chambers at significant discounts to help you access our medical products no matter how tight your budget is. All of these offers are for new chambers unless specifically stated otherwise. If used, rest assured that these chambers are thoroughly inspected, cycle tested, disinfected, and repackaged in our factory before being resold. We only sell used hyperbaric chambers manufactured by Newtowne Hyperbarics. Standard warranties apply to all our products.
Not sure if your condition will benefit from HBOT? Only need treatment for a month or two? Try our chambers before you purchase. The typical protocol to determine if you will benefit from HBOT is 40 consecutive sessions of 60 to 90 minutes each. This can be done within 30 days with 2 sessions daily or within 60 days with 1 session daily at your home convenience. Renting a chamber for 30 to 60 days will allow you to confirm the benefit for your need. All or a portion of your chamber rental fees apply to purchasing your chamber.